For our farming customers, we have taken the same focus helping them on managing the cost of their inputs, sorting out the poor do-ers, and doing everything in our power to protect the value of the end product. Heck, we even got mixed up in erecting a grain bin this year.
If you've got an issue you'd like to discuss, drop us a line. If we can't help you, we'll find someone who can.
Zia Commodities Team
Sean Perez
President
Sean was born to the union of not one, but two ranching families scattered all up and down the New Mexico ranching country. After spending a childhood somehow avoiding abduction near Roswell, Sean ended up working on the family ranch near Vaughn. Somewhere between breaking ice, tying fence, and accidentally Ivomec'ing himself (not the pour on, unfortunately) he decided that he would have quite a future as a computer scientist. Sean went to university at New Mexico State University and graduated four years later with a Bachelors in Computer Science. After going on to work as a software engineer for a few years, Sean was inexorably drawn back to the family business, and Zia was born.
Anthony Zangara
Markets Specialist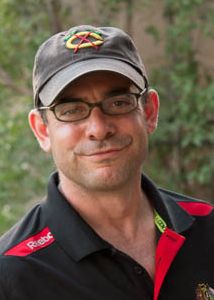 Better known around the office as "Tony", Anthony hails from the Windy City. This south-side Chicago native lived the stereotypical Chicago native life for the first half of his life. Tony was raised in a typical loving Italian home, his father a union man and mother a home maker. After graduating with a degree in Criminal Justice, Tony opted not to pursue a career as an attorney and to instead pay homage to the Chicago Mercantile Exchange by working on the trading floor. Starting as a runner, and climbing up to a floor broker working in several pits including treasury bonds and corn, Tony had a successful career, but wasn't satisfied with city life. After doing some traveling, including spending some time in India trading the Indian markets, Tony decided that Chicago was no longer the place for him. He loaded his car up with his mountain bike and golf clubs and the few worldly possessions that mattered to him, and started west for the coast. Stopping over at the Paako Golf Course for a round of golf, Tony encountered Narciso (who at the time was wearing a Chicago Board of Trade baseball cap). The rest, as they say, was history. Now, Tony analyzes markets for Zia Commodities only as much as he has to between barbequeing, running, mountain biking, snowboarding, and every now and again enjoying a frosty, cold Coors Light.
Felicia Jackson
Office Manager
Our most recent addition, Felicia looks after the minutia so that the rest of the office can focus on our customers. Felicia is also an Albuquerque native, hailing from Lobo territory. A mother of two, when she came on board she adopted five more and became the "office mom". Like every good mother, she spoils us, but knows how to keep us whipped into shape as well.